PENSA
Electrical Projects of Nicaragua, S.A
Electrifying the Progress
We are a company
specialized in the design and service of electrical installations in Nicaragua and Central America. PENSA has over
10 years
of experience providing services in the field of Industrial and Residential Electricity. |
Cambie a Version en Español
About Us
PENSA belongs to a group of consolidated companies committed to the development of our country.
We contribute in creating opportunities, for growth and labor incentives for our employees.
We have decided to invest in new market niches to provide development for the economy in Nicaragua.
Our Experience
New Military Hospital School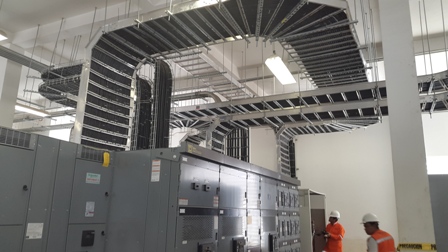 Full installation and electrical designof the Hospital including : Pipes , Rush installation panels Main , Sub panels , Installation of Dry transformers , disconnectors , boxes of records, installation of interior lighting, outlets , Internal Labeling, Etc.
New La Virgen Mall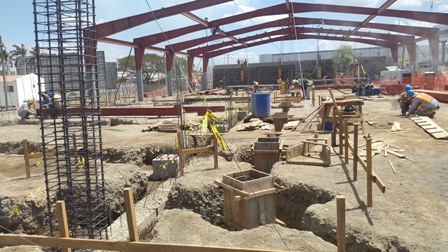 Installing Red Earth Perimeter Installation of PVC pipe , EMT and IMC , Installation of Exterior lighting parking areas , Installation of Exterior Lighting Super Market LA COLONIA , Lighting System Installation and takes Corrientes Halls 2 and Common Areas levels , Installation of Main Panel, Power and Distribution Panels transfers of mall.
VF - Nicaragua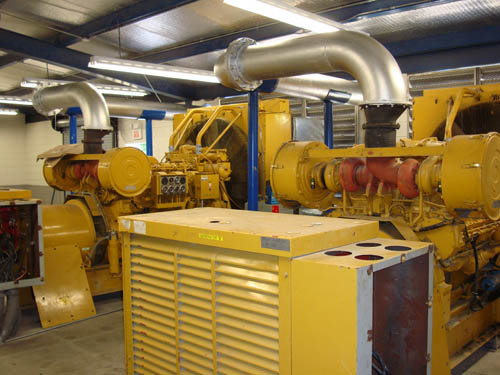 Full Design and Electrical Installation of Factory Including: High Voltage Distribution Lines and Grounding system Distribution, Installing (3) 1000 KVA Pad Mounted Transformers and Distribution of General Lighting.
CONAMERICA - Nicaragua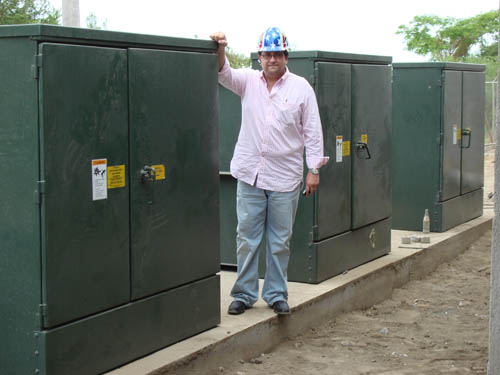 Hampton Inn Hotel Full design and Electrical Installation of Factory Including: high voltage distribution lines, installing 750 KVA Pad Mounted Transformer and Distribution of General Lighting.
Our products

We are distributors of BAUR Direct Line.
Our products prevent damage in electrical networks and installations , cable fault location , cable testing and diagnosis of insulating oils Dielectric Test.
Our Certifications
Certification NFPA 70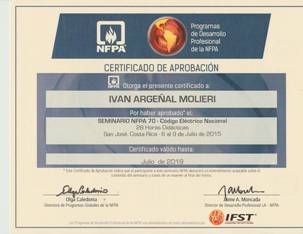 Seminar NFPA 70 - National Electrical Code. San Jose Costa Rica.
Certification NFPA 70 B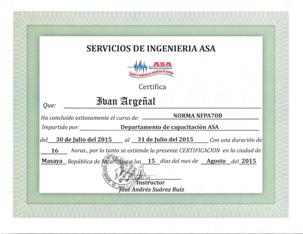 Certified NFPA 70 B - Maintenance . Managua , Nicaragua.
Certification NFPA 70 E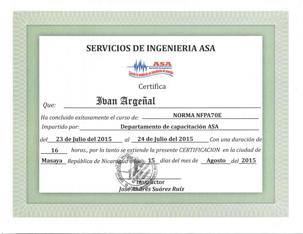 Certified NFPA 70 E - Safety. Managua , Nicaragua .
About Us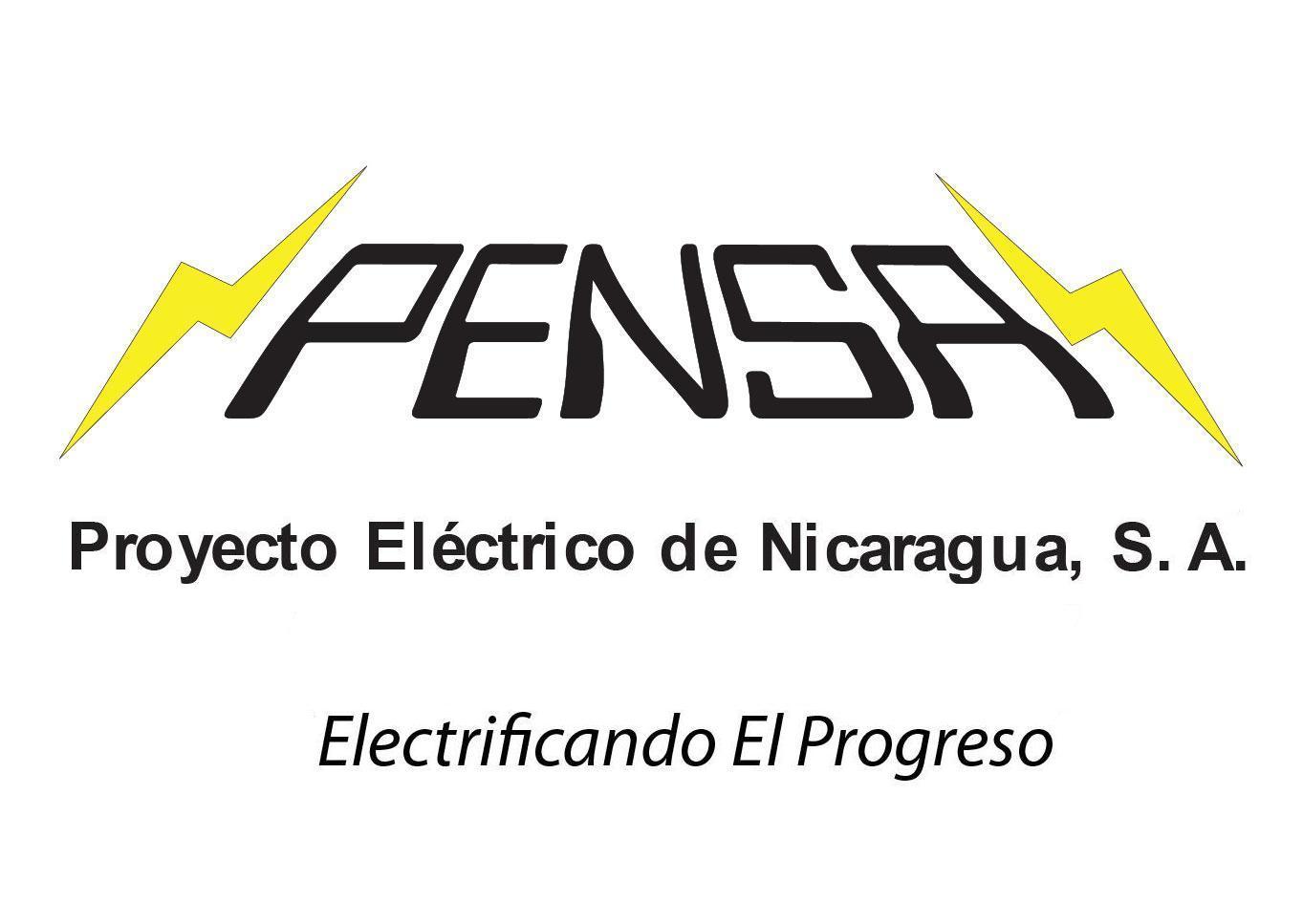 PENSA makes all its services under the guide lines and regulations of NEC, aiming to ensure all projects implemented under its care.
It has highly skilled technicians and engineers with experience in areas of design in residential and Industrial Installations, voice and data network and telecommunications.
We have technological equipment to certify our quality.
The electrical installations of a company carry life and productivity and are the neural connections that make contact with the world. For PENSA each project is a challenge, which concludes with the total satisfaction of our clients; the selection of suppliers and quality control are our top priority. The commitments we have in this market are Quality, Safety and Professionalism.
Our Mission
To Provide integral solutions in the areas of engineering, electrical installations and telecommunications, to the satisfaction of our clients.
Our Vision
To be national leaders in electrical installations and telecommunications with international presence and to consolidate the expectations of our clients into structural realities and economic growth.
If you need more information about our services, call us. We will have an optimal solution for you and your company.
All our services are carried out under concepts such as efficient use of electricity, strategies for efficient energy consumption, certification systems under standards and prestige brands International.
Our Values
We work to achieve success in the following:
Satisfaction
Disclaimer
Honesty
Organization
Respect
Discipline
Recognition
Teamwork
Our Benefits
Our company make its slients feel secure:
We are members of IEEE 40215626
We are members of ANIA 901
Certification NFPA 70 NEC 2008
Certification NFPA 70E ( Safety standards in workplaces )
Certification NFPA 70B ( Practices for maintenance )
Construction license for high voltage distribution line
License of ministry of transportation and infra structure (MTI) No 1759
Fire department electrical desing license No 056
Legally constituted company since 2006
PENSA Maintenance offer geothermal power plant, consulting in maintenance, care and geothermal reservoir management and advisory exploring new geothermal concessions.

Similarly we provide consulting electric state facilities, state of instrumentation and control equipment, Mechanical condition of plant equipment (plant and field) and productive state of the geothermal field.

PENSA Provides maintenance services, Component Overhaul, Overhaul Life Extension and its turbines.

This package of amendments maximizes the performance of the turbine, increasing availability and reducing operating and maintenance costs, increasing the mean time between failures and reduce repair time of the turbines.
PENSA Advises and develops projects of Bio energy generation plants King Grass as its excellent heat, quick growth factor and density of foliage which is considered a fabulous combustible material to be processed in boilers and get electricity generation.
Our company has regional and national references . To give security to our customers and our employees.